Profile

The one who survives by making the lives
Of others worthwhile
Free Account
Created on 2011-12-21 08:05:19 (#1152963), last updated 2013-05-13 (227 weeks ago)
0 comments received, 0 comments posted
1 Journal Entry, 2 Tags, 0 Memories, 1 Icon

About
| | |
| --- | --- |
| Name: | MAJ Scarlet Levy |
| Birthdate: | Feb 18 |
| | |
| | |

Mini Bio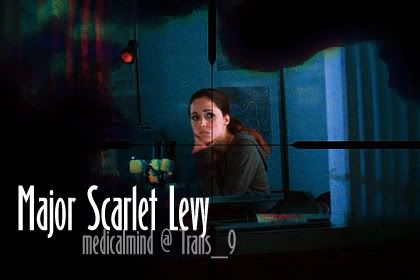 I've always been the tower;

STATS

Name:

Scarlet J. Levy

Ranking:

United States Army MAJ; Chief Medical Officer Great Britain Repopulation Program;

DOB:

8/3/1979

Age:

27 (at death)

Bloodtype:

O+

Violations:

0

DETAILS

Personality:

Scarlet Levy is a relatively serious and dedicated woman. She would have to be, to work her way up the ranks through the army to Major, and to then to become one of the chief minds behind the study of the Rage Virus. She works tirelessly in an effort to find a cure to the virus, and discover why exactly it broke out in the first place. She worries a great deal, about things relating to her job and the people she's surrounded by, but she makes an effort not to show weakness in the presence of others, if it can be avoided. She is, after all, an American Soldier, and has been conditioned to be tough-as-nails when the situation calls for it.

She isn't all severity, and is capable of smiling and cracking jokes, although she is more a dumb humor fan than thickly veiled sarcasm. She's a very sympathetic and empathic individual, wanting nothing more than to serve her country and planet in the best way she can. She doesn't particularly appreciate humor in dire situations, and can get snappy if provoked into it. She's also extremely passive aggressive when something happens she doesn't agree with, but doesn't feel she can bluntly voice without getting in trouble.

As with most scientific minds, she's always questioning, and always willing to learn and adapt to new and different things. It was this quality that was likely what landed her as chief medical officer heading up the re population of Great Britain after the Rage Virus supposedly died out.

History:

Major Scarlet Levy was just a Medical Officer in active duty in the United States military when the Rage Virus broke out and devastated all of Great Britain. She was a part of the cursory investigations, and her dedication to the project quickly launched her to the head of the operation, working tirelessly to better understand the virus and prevent it from ever reoccurring.

She helped set up District 1, and make the Isle of Dobbs safe for human repopulation, and once the area was deemed completely scrubbed of the Rage Virus, she helped process and welcome native Britons back to their home. All the while she worked on studying the virus, trying to understand it, in an attempt to find a cure, constantly worried that an outbreak may occur again.

It wasn't until she was watching a group of new arrivals disembark and noticed a small child and his elder sister among the group that her routine was greatly unsettled. The idea of children in the country again worried her, because they hadn't established a protocol for minors, and her fears of the virus returning still hadn't been settled. She brought her concerns to the General, and her fears were ultimately dismissed, the consensus being that if the virus returned, they would kill it once again. She got to know the boy, Andy, and his sister Tammy after the initial meeting. She liked them both, and continued her work on the virus, more determined now than ever to make sure that it wouldn't threaten these kids.

A surprise came when Andy and Tammy snuck out of District 1 and into London proper, and when the soldiers rounded them up they found the children's mother was still alive (having been assumed dead.) As was compulsory with any survivors found, Scarlet took blood samples from the woman, first alerted to something being different about her when she noticed a bite mark on her arm. Her suspicions were confirmed when she discovered that the woman was infected with the Rage virus, but that she was showing no symptoms, a carrier. This discovery elated Scarlet, the possibility of a cure being somewhere in their grasp with this woman's blood.

However, she didn't have a chance to further study it, as the kids' father, Don, had discovered his wife was still alive and went to visit her in quarantine, despite the security precautions, and while Scarlet was arguing that the woman should be kept alive to General Stone. Don unintentionally infected himself by kissing his wife, and quickly succumbed to the Rage Virus, beating his wife to death before taking to the hallways of District 1's medical center and infecting everyone he came across.

While General Stone put Code Red in effect, Scarlet ran to get the kids who were still in quarantine (fortunately a different part of the center from their mother) and attempted to evacuate them as top priority individuals. She and Tammy were unfortunately separated from Andy, and were forced to move to a different part of District 1, where Scarlet put out an APB on Andy over the military short wave.

They were able to find Andy again, partially due to the help of Sergeant Doyle of the Delta rooftop squad, and it was with Doyle's help that they all made an escape attempt from District 1. Scarlet was injured in the escape, shot in the leg by a sniper, but she was still able to run supported by Doyle.

After escaping to a park to catch their breaths, Scarlet explained her suspicions that one of the kids might hold the answer to a cure due to their mother's blood, and that she is willing to lie her life down for them, as well as his. He understands, but they're interruped from any further conversation when his friend Flynn arrives in his helecoptor. Flynn refuses to take any passengers other than Doyle, and Doyle refuses to leave without them, but they are again interrupted by a group of infected showing themselves. Flynn distracts them while Scarlet and Doyle run with the kids, heading back into London proper to meet Flynn at Wembley Stadium. Unfortunately the city is being gassed, and their attempt to seek refuge in a car ends up the ultimate sacrifice for Doyle, when the car won't start, and two men are advancing, burning the dead bodies of infected. Doyle gets out of the car and pushes it, getting burned alive while yelling for Scarlet to pop the clutch, which manages to kick the car to life.

Scarlet drives the car through the streets of London looking for a way to Wembly, when they're ultimately forced into the Underground when a helecoptor shoots at them. She takes the kids down into the dark, guiding them along with the use of Doyle's night vision scope on his rifle. She loses them at one point, after Tammy gets scared and loses her footing, falling down a flight of stairs. Panicked, she tries to locate them, and she just manages to find Tammy when she's ambushed by the infected Don, who then beats her to death with Doyle's rifle.

It's when everything goes black but she's still clinging onto that last ounce of life that she's plucked out of her timeline.

Non-superhuman special abilities of note:

Scarlet is a Major in the United States Army, so she is obviously trained in combat situations, proficient with a firearm, and trained for endurance, but on top of that she is a Medical Officer, and a high ranking one at that, heading up an entire medical facility charged with the study of the Rage Virus and repopulation of England. So she is quite smart, and well-read in the fields of virology and emergency medicine.

MUNHMDTRANS 9LOGSProfile



this journal is being used for entertainment purposes only. it is for a role-playing game, and no profit is being made from it. 28 weeks later and scarlet levy are property of 20th century fox, and rose byrne is property of herself. this is just for fun.